Etretat Private Tour with a local
Etretat Private  Trip
Book a private tour to Etretat and follow the path of the Impressionists. You will understand why they were such inspired by this place.
The play of light on flint arches, needles and pebbles, the luminous cliffs of Etretat are known through the world. The resort has been classified as a Major National Site. At low tide, the 18th century oyster beds can be seen. Discover the wealth of wild plants and animals on the signposted walks.
We offer you the possibility of hiring private limo with English (Spanish, Italian or Portuguese) speaking driver, then you can visit at your own pace. You can ask us for our pdf guide for a self guided tour.
If you have your own car, you can also ask for a licensed tour guide for a private walking tour.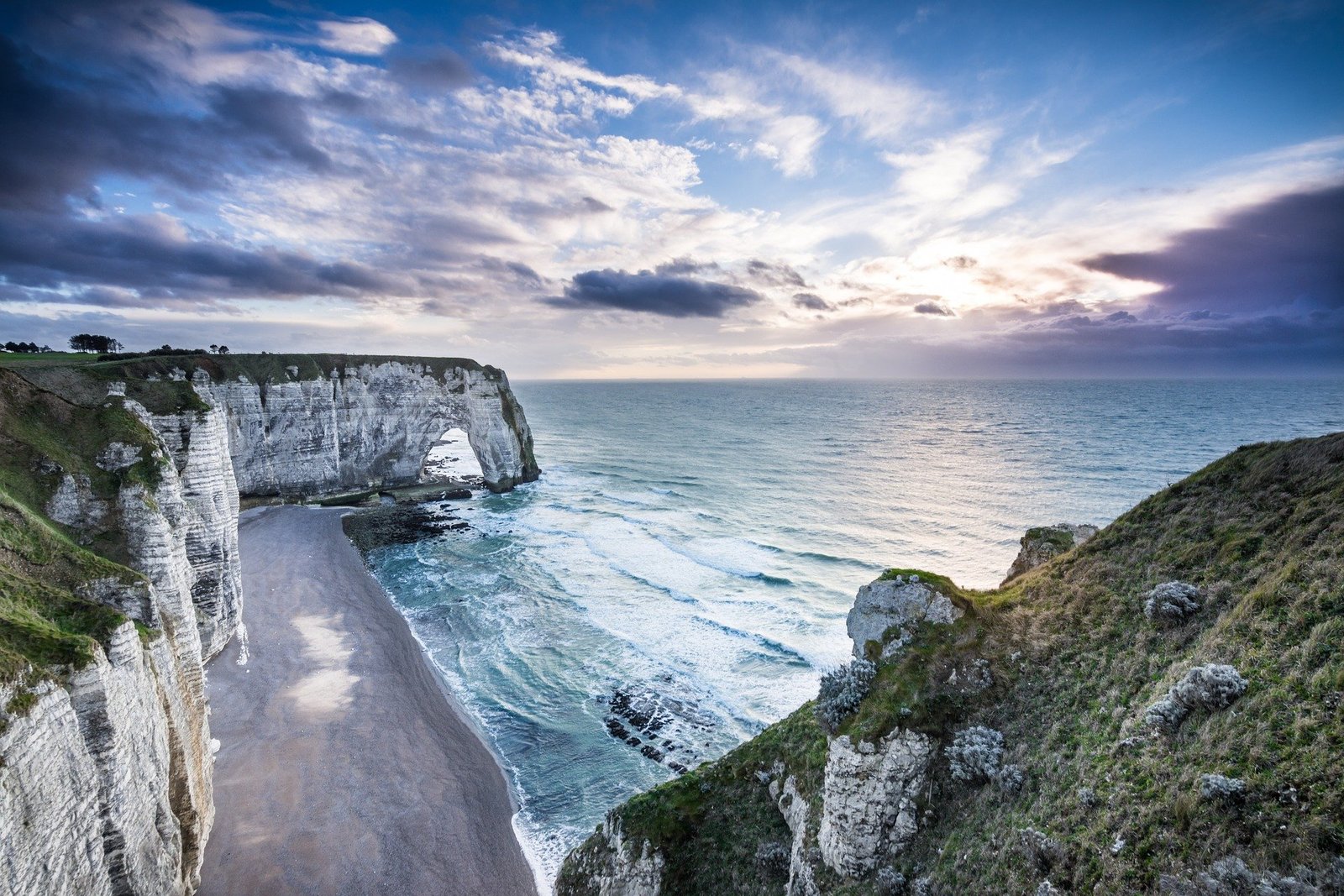 Discover Etretat with a Local
The historic capital of Normandy was the scene of the martyrdom of Joan of Arc, convicted and then burnt at the stake in 1431 on the Old Market Place. Rouen is also known as the "Town with a Hundred Spires" thanks to jewels of religious architecture.
Walk on the cliffs
Hike on the chalk cliffs and enjoy the breathtaking sea view on the Albaster Coast . This is a unique experience mixing contemplation and movement.
Go on the beach and walk under the "Porte d'Aval", a huge flint archway carved by the wave and discover the treasure of the Kings of France discovered by Arsène Lupin.
This 51 meters high needle bears witness to the geological past of Etretat.
Visit Etretat's Garden
This garden has emerged from the historical garden of the French actress Madame Thebault. Inspired by Monet and his passion for gardening, she decided to set out her own garden in 1903.
Today this neo-futuristic garden is presented as a garden of the future with no beginning or end. You could find 3D plants of bizarre shappes and more than 150 000 specimens of plants, evocative of the nature in Normandy.
Culture in Etretat
Etretat has fascinated many writers and artists. Karr, Maupassant, Courbet, Monet, Isabey and Offenbach all fell in love with it. Nor should we forget Maurice Leblanc's immortal character "Arsène Lupin".
City departure for this tour
Le Havre
Bayeux
Paris
Caen
Honfleur
Highlights
Nature
Charming Village
Impressionism
Art
Nice Book Shop
Included
Private Transportation with driver
Gas, tolls, park fees
Driver charges
English, Spanish, Italian, Portuguese, French speaking driver
Maps and support
Options
Private tour with licensed guide
Driver-guide
Museums
Extend the Tour
Gourmet Lunch
Home Made Ice Cream with Normandy Milk
Languages
English
Spanish
Italian
Portuguese
French
Limo driver / Driver-Guide / Guided Visit
Local driver
Driver-Guide
Guided Visit
You wish to stay more than a day and extend the tour? Spend a night in Etretat or somewhere in Normandy and enjoy more highlights.
Ask for a tailor-made experience.

Contact us for any information, request or customized itinerary